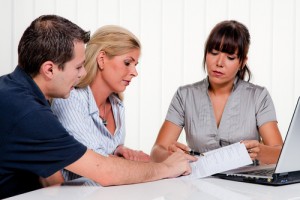 Most people will never need to hire an attorney in their lifetime. However, if the time comes and you do need to hire an attorney, it would be in your best interest to make sure that you hire a competent attorney to assist you in your matter, no matter how simple or complex it may be.
Hiring a competent attorney vs. hiring an attorney who does not follow through or ensure that the outcome of your case is properly handled, could cost you hours of aggravation, loss of rights and possibly severe monetary damages.
Remember the old adage: "You get what you pay for" can apply.
Let's take a look at some examples:
When it comes to a contested or complex divorce with or without a division of property OR a dispute over the custody of children, hiring a competent attorney can mean that instead of getting a form generated order that does not preserve your property rights or, if there are children, allow your family (in its altered form) to grow and thrive; instead, you get an order that is properly drafted, one that takes into consideration all relevant issues and resolves those issues between the parties. Attorneys who do not take the time or have the time to work on a case, usually use quickly produced form generated orders or orders that they copied from another client – many times without changing all of the past terms and names!
A competent attorney will work to resolve all issues and they will draft proper orders or, if the opposing counsel is responsible for drafting the orders, make sure that the orders presented properly preserve the agreement or judgment reached. Resolving these issues takes time and attention. For example, using a form generated order can mean that there are no orders that include telephone time between the parent and the child or that a Qualified Domestic Relations Order was not drafted or entered dividing retirement property. Once the final orders are entered, there is little that can be done to change or add to an order other than filing to modify or clarify the previous orders, which takes time (generally, you have to wait one year from the date of the entry of the final order before you may file a petition to modify an earlier order) and additional expense.
In regards to a plaintiff litigation or defense litigation, trial or jury preparation, including litigation for breach of contract disputes or Deceptive Trade Practice Act disputes, hiring a competent attorney can mean that you win your case, versus lose it. Competent attorneys will perform research, prepare proper pleadings, use motions to resolve issues and take the time necessary to generate documents that will force opposing parties or other witnesses to produce the evidence that will be needed to win the case for their client.
In regards to the preparation of and the filing of immigration visa petitions, naturalization applications or representation in removal defense, or criminal or immigration proceedings, hiring a competent attorney who will take the time to perform legal research, file proper documents, resolve issues before the immigration court, or file proper appeals — versus one who doesn't know the law and therefore may destroy your opportunity to remain in the USA — oftentimes can mean that your case will be approved or that you will be allowed to remain in the United States versus having your visa petition denied or you being ordered removed from this country.
How Attorneys Invoice or Bill Their Clients for Their Time
Attorneys will charge you for their services in a number of different ways.  So, before you decide on an hourly rate or a fixed or flat rate attorney, be sure that you know what you are signing up for.
An attorney will either charge their client an hourly rate or they will charge a fixed or flat rate for their services. Some states allow the attorney to represent the client for a limited purpose, while other states require the attorney who enters an appearance to represent the client throughout the duration of the case or until an order of withdrawal is entered.
Hourly Rate Fee Arrangements:
If an attorney charges an hourly rate, their fees may be billed at an hourly rate ranging anywhere from $175 per hour to $1,500 per hour. The attorney will also require a retainer to be paid initially and an evergreen retainer to be paid each month so that work on the case can continue. I have seen these initial retainers ranging from $1,500 to $75,000 with the evergreen retainers set at a similar amount. If the attorney bills at an hourly rate, the billing can occur in 10-, 15-, or 20-minute increments, which means that the minimum increment of work for each service performed – telephone calls, emails, drafting, etc. – is the billing increment as defined in your fee agreement with the lawyer. As time is billed, the retainers are depleted and work continues as the evergreen retainers are replenished.
With an hourly billing arrangement, you pay only for the time your attorney actually spends on your case and if a paralegal or legal assistant is used, you pay less of an hourly rate for their services, therefore maximizing the amount that you will spend for proper legal representation. More importantly, as your attorney has money in your trust account with the firm you are assured that the attorney will continue to pursue your matter in the most aggressive way possible for your individual matter.
Flat Rate or Flat Fee Arrangements:
A flat rate or flat fee attorney, or one who charges a fixed amount, will charge a set amount for the representation being performed and this amount is usually paid up front. Depending on the type of case, and the complexity of same, I have seen fixed or flat rates ranging between $1,500 and $75,000.
If your state allows for limited representation (meaning that the attorney can be retained for one or more specific task(s) in a lawsuit and does not have responsibility for the entirety of your case), a fixed or flat rate is usually the norm for billing; however, some attorneys will charge their clients an hourly rate and will bill off retainers.
More on Flat Rate Fee Arrangements:
• If an attorney charges a flat rate for a case instead of keeping track of their time and billing the client for that time spent, the attorney may either rush to get your case resolved or once your retainer is spent, the attorney may have to look for or take in new business in order to generate revenue. What this means is that once an attorney takes on new work, as you are no longer paying him or her for his/her time, it will likely reduce the amount of time that he or she has to spend on your case as the attorney has to generate more business by bringing in new clients.
• Flat rate fees are based on averages. Therefore, you may end up paying more than your case is worth and your attorney may choose to have a less experienced lawyer perform work on your case in order to make the arrangement more profitable.
• Fixed-fee arrangements are relatively new. It might be a challenge to find an experienced family law attorney who will take your case on a fixed fee.
What you can do if this happens:
• If your case drags on, you may have to renegotiate the fee agreement so that the attorney has new incentive to work more diligently on your case.
• Hire a new attorney who has a good reputation and who will put the time into your case at a reasonable hourly rate.
One of the biggest complaints that I have from clients who have transferred their case to our firm after previously hiring a flat rate attorney is: "They just dropped my case and haven't done anything for me (or my child) in a while. They won't even take my calls."
It's understandable that, as a client, you want to know up front how much your divorce, family law matter, immigration case or litigation will cost, however, this is difficult to predict as everyone's case is different. The more complex your case (or the personalities of the parties) is, the more time that it will take for your attorney to defend the interests of you and your case. If you hire a reputable attorney, such as those at Goldstein & Scopellite, PC, and if you trust in their opinion and representation, they will try to achieve a closure to your case with the least amount of billing and uncertainty. The attorneys at Goldstein & Scopellite, PC, will accurately assess your case and discuss the process that they will take in representing you throughout the litigation cycle.  Please keep in mind, hiring an attorney is expensive and the best way to mitigate your cost is to have a clear plan of attack and to not deviate from your plan.
Goldstein & Scopellite, PC,  is located in Dallas, Texas, and was established in 2002. For more information, see our local listing in D Magazine.
Image via Shutterstock.com