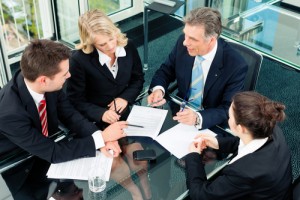 Running your own business, small or large, takes a tremendous amount of time and effort. And if your business ends up having a dispute in one of many areas including administration, marketing, advertising, labor, internet, contract or financial, these disputes can end up having a negative impact on your business. And, if the dispute over an issue is complex, if it is not handled correctly by the right person. or if a person waits too long to act appropriately, the damage could be irreversible.  In fact, many types of disputes can lead your business being involved in a lawsuit, commercial litigation, breach of contract litigation or arbitration, sometimes even without a contract.
There are several ways that you can lower the risk of having a dispute arise involving your business or in being involved in a lawsuit. One of those ways is by making sure that you have a qualified business attorney on retainer who can protect your company's interests, respond as needed, and, work out the best plan to resolve the dispute issue or the litigation process quickly.
If you are involved in a business dispute; if you have been served with a lawsuit (petition or complaint); or if you are seeking damages or breach of contract against another party, please do not hesitate! Contact the litigation attorneys at Goldstein & Scopellite, PC right away!
The following tips for small businesses can help reduce the chance of your business being sued and ending up in a complicated and long-drawn-out litigation process:
Make sure that all agreements are properly drafted and in writing. All agreements that you enter into with clients, vendors and any other business entities should be in the form of a properly drafted contract. These contracts should be constructed to meet the minds of all parties involved.  If the agreement is in writing, it will be much easier to enforce a breach in court, should litigation be necessary.
Learn parts of the law that involve your business. Take the time to speak with your attorney ad become familiar with the laws and legal issues that involve your type of business, such as administrative codes, statutes, employment laws, federal income reporting laws, confidentiality agreements, non-compete agreements, etc., and make sure that your attorney assists you in drafting useful policies and procedures that will also protect your business.
Practice good record keeping.  Put in place proper computer programs that will assist your employees in doing their job and will help your company with record keeping, including but not limited to product and financial tracking.
Put in writing the responsibilities and rights of each owner or partner.  Make sure that there is a valid written agreement that clearly states what your business partners or company shareholders are responsible for and what each of their rights are.
What Happens if You End up Being Involved in a Lawsuit? 
The first thing you should do is hire (retain) the services of an experienced business litigation lawyer who has a good track record in court and who knows how to settle legal matters.  Next, make sure that you retain this litigation attorney within one week of being served of the Summons or Citation, so that the attorney will have sufficient time to research the issues including if you are the proper party being sued. They will also need time to draft and file your Answer/Response in court and possibly a counter petition/complaint so that you avoid having a default issued against you.
What is the Litigation Process? 
Litigation (non criminal) generally occurs in several stages, beginning with a demand letter being sent or an investigation taking place.  If the complaining party has a non-frivolous basis to sue, a causes of action are researched and a Petition or Complaint is drafted and then filed in court.  Next, the person being sued is served with a Summons/Complaint and Petition. Then, an Answer/Response is filed by the person being sued (that person can also file a Counter-Petition or Complaint). Once the proper parties are in the suit, a temporary orders hearing may be held and temporary orders or a temporary injunction may be entered.  Then, the discovery and pre-trial process takes place including the exchange of evidence and information.  During the litigation process there is a settlement stage (which can take place several times during the litigation) and if the parties do not settle, there is the Final Trial.  After the Trial, if one of the parties does not like all or part of the Judgment, an Appeal can be filed, usually between 15 and 30 days from the date of the entry of the judgment.
And none of the process stated above included the work to be done if there is a jury trial, which either party can file to request hear the case or Arbitration or mediation, etc.
The litigation process can end quickly through settlement, or it can go forward for several years.  Litigation can also be very costly, depending on the complexity of the issues, disputes and damages being sought and the number of parties involved.  That is why it is important to retain a qualified business attorney who knows the law and the litigation process.
The Business attorneys and litigation lawyers at Goldstein & Scopellite, PC are experienced in all areas of business law including plaintiff business litigation and respondent litigation defense.  They will guide you through the legal process and diligently and aggressively represent you in court, if necessary.
Goldstein & Scopellite, PC, established in 2002, has offices located in Dallas, Texas and Tucson, Arizona.  For more information, see our local listing in D Magazine.or visit their websites at www.lawyersdallas.com or www.lawyers-tucson.com. Thank you.
Image via Shutterstock.com