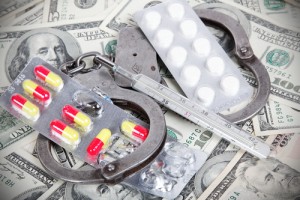 Anyone who has been charged with, and is being prosecuted for, drug related charges faces an uphill battle in the court system, especially if you are innocent.  Please keep in mind that under our U.S. Constitution you are innocent until proven guilty. If you have been charged with any type of crime, the criminal justice system can be overwhelming and a frightening process. And, as a Defendant, you may be concerned that you won't receive a fair trial. This is why most Defendants do not want to go to trial and they enter into a plea agreement even if they may be innocent. Before you speak to anyone or sign anything related to the case, including a plea agreement, consult with an experienced Criminal defense attorney who can ensure that your legal rights are protected.
What to Expect in Arizona
Arizona recognizes three different classes of drugs: marijuana, narcotics and dangerous drugs and there are different statutes that deal with whether the Defendant was in possession of the drug, manufacturing it (growing it) or distributing it. The more severe the drug classification, the more severe the penalties will be and the more difficult your case will be to argue and defend. If you are charged with one of these types of crimes, serving proper Disclosure on the state is a very important part of the defense of this process and you may be able to win your case based on the state's witnesses or evidence, which must be turned over to a Defendant under Brady v. U.S. And, if you are innocent, you will want to fight these charges because for example, if you are charged with Possession of a Dangerous Drug you could face a $2,500 fine and up to six months in prison, not including the loss of your driving privileges and possibly your U.S. status if you are not a U.S. Citizen. That being said, there are options, especially for first time offenders. Under the Arizona state's first time offender statute, the sentence may be deferred. If you have been charged with any type of drug possession your criminal attorney will work with you to pursue your best options under the law.
What to Expect in Texas
The state of Texas has equally harsh statutes that can cause severe penalties to drug offense related individuals. Texas recognizes four distinct categories of drugs, which then result in a category under which the Defendant will be charged if he is caught in possession of, manufacturing or distributing these drugs. The more dangerous the drug involved in the crime, the harsher the penalties enforced. Depending on the weight of the drug found, penalties could range from six months in jail and a $10,000 fine up to a minimum 15 years in prison with a $250,000 fine. Fortunately, the state of Texas also offers other options for individuals charged with a first drug related crime. The state of Texas offers state jail felony probation and they also have a diversion program in which the court may sentence you to a court mandated drug treatment program in lieu of incarceration. If the charge is a misdemeanor the court may also choose to sentence you to probation. To explore these options further, consult with a qualified criminal defense lawyer at your first possible opportunity, which should be after your arrest. If not, you may be forfeiting legal rights that you may not know about and you may end up suffering a harsher penalty than necessary, under the law.
Goldstein & Scopellite, PC, who has qualified and experienced criminal defense lawyers and criminal attorneys on staff, has offices located in Dallas, Texas and in Tucson, Arizona. The firm was established in 2002. For more information, see our local listing in D Magazine.
Image via Shutterstock.com